Raasepori, Tenhola. It's only 6.57 when the photographer and I park our car on the side of the road. We are on our way to experience and report on a day of Tina Tillander's life, and want to make sure we won't knock on her door too early at this time of day.
Three minutes later, we approach the old farmhouse on top of the hill and hear a big dog barking vigorously. Tina peeks from the window; good, she is awake and up then!
We step in and admire the house, from the late 19th century. An beautiful tiled stove radiates cosy warmth and early morning light flows through the characteristic window panes. Looking around, there is something beautiful everywhere, in a very casual way. This is exactly what Tina does; as a talented jewellery designer, one of her core skills is to combine beautiful things so that the end result is unforced, natural and at times a little surprising.
Tina starts this Tuesday as she does most days, by taking her 3-year old Alsatian Hessu for a walk. The seashore in Vikstrandinlahti is still covered by thick ice even though it is already March. After walking the dog, Tina turns her attention to cats Mimmi and Greta who live in the old stables. She feeds the two while Hessu runs around madly since he feels it's his duty to guard them even though he doesn't like cats.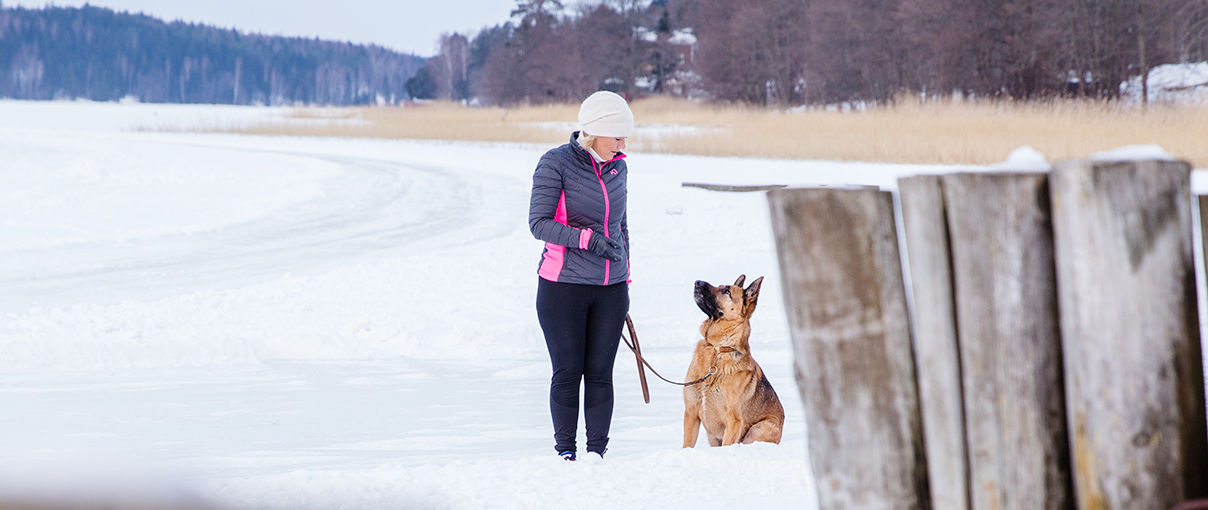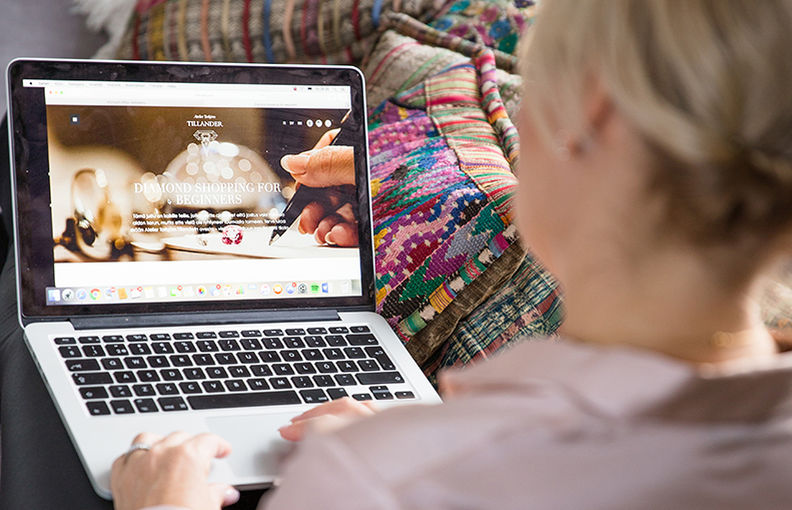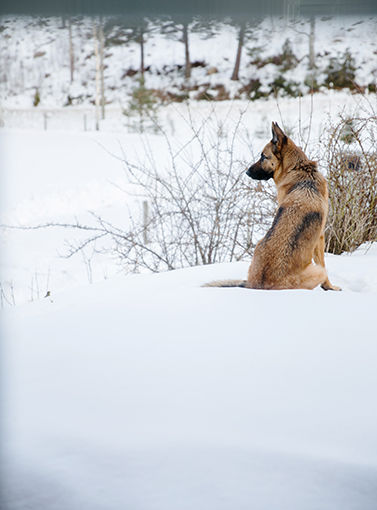 Business Tina. We go back inside and watch Tina transform herself from an outdoorsy person into a business woman. Diamonds on the ears, a rubellite around the neck and the day's first e-mails sent off. Then it's time for us to leave peaceful Raasepori and set off for the centre of Helsinki and the sparkly world of gems at Atelier Torbjörn Tillanders'.
What most people would see as sheer glamour is every-day work for Tina, but I just have to ask: what does Tina consider a luxury then?
– For me, being able to do this for work is a luxury, Tina answers.
– We are lucky in that there is a market for the type of hand-crafted unique pieces of jewellery we make here at Atelier Torbjörn Tillander. They are good examples of micro luxury items that have become increasingly more popular in Finland, as elsewhere.
– Another luxurious aspect of my life is the opportunity to live in this wonderful setting in the countryside. We have always kept animals, including horses a while back. Such a close connection with the nature and countryside is a way of life that balances out our work and life in the city very nicely.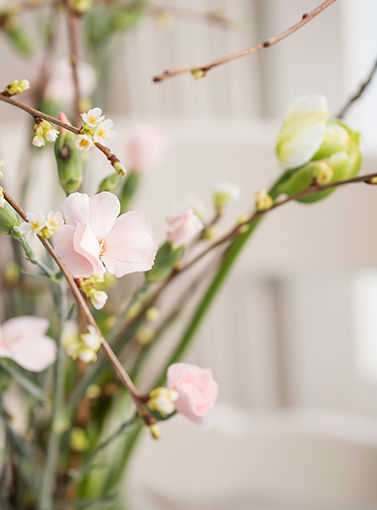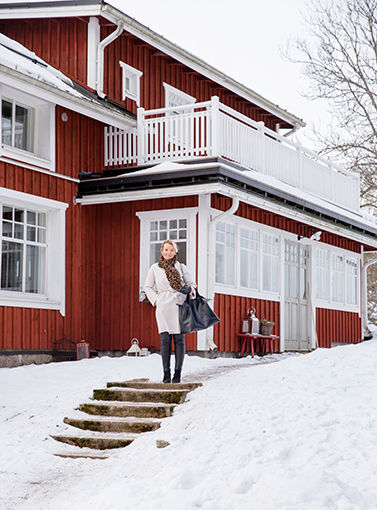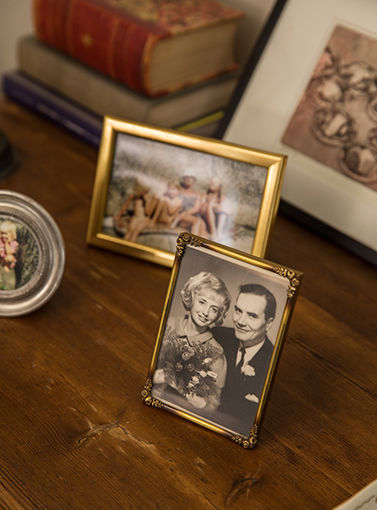 Nonna Tina. The drive of an hour and half from Raasepori to Helsinki is a good time to talk about animals, children and other important things. Tina has two daughters, 26-year old Daniela who is studying medicine and 23-year old Jenny, who just graduated as a gemmologist in London. Jenny is expecting her first child, so Tina is soon to become a grandmother.
– Such a great thing, she smiles and says she expects to be a down-to-earth nonna who doesn't make too much of a fuss over her grandchildren or spoil them excessively.
– This is, after all, a new stage in my life, and it also reminds me of the fact that I'm getting older. I recently visited the doctor about a pain in my wrist and he said I had so-called grandma's arthritis; which is something grandmothers get when they look after their grandchildren a lot. And I got it beforehand!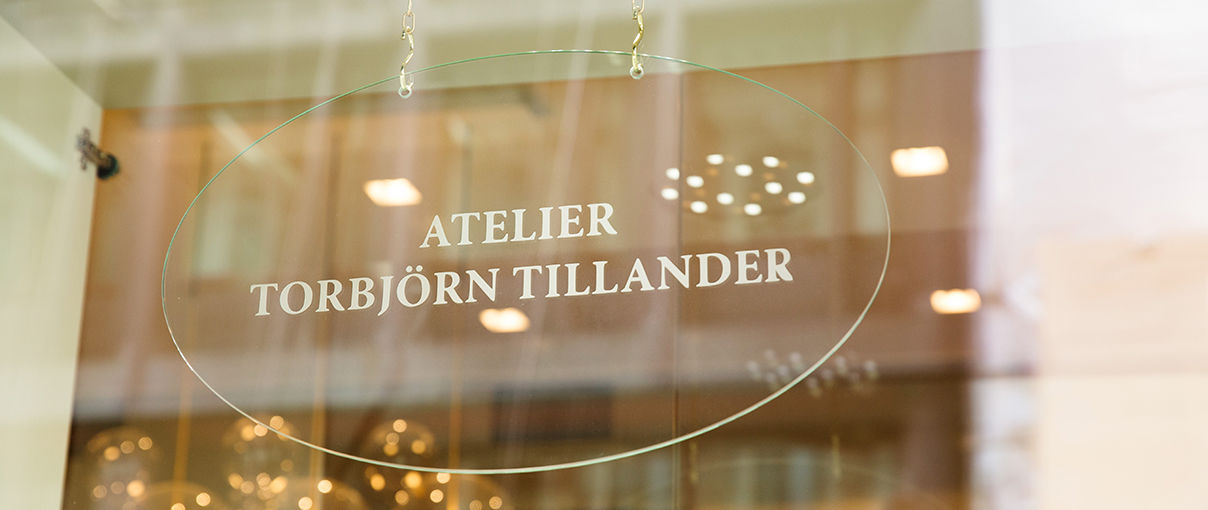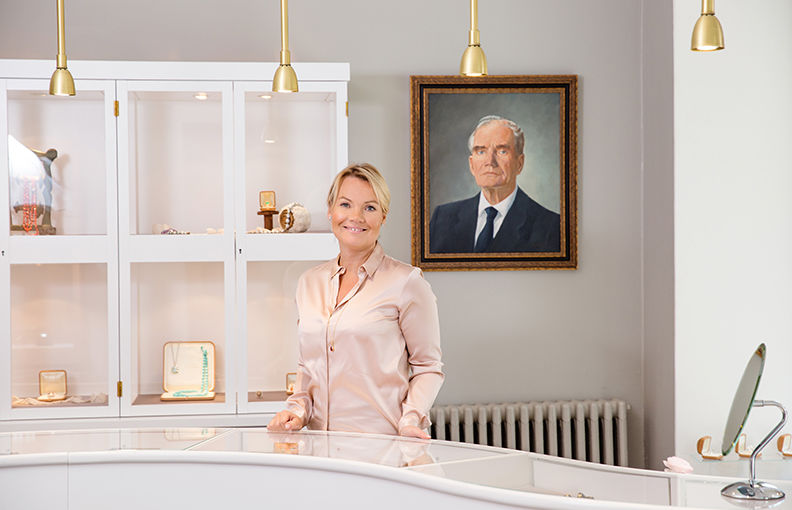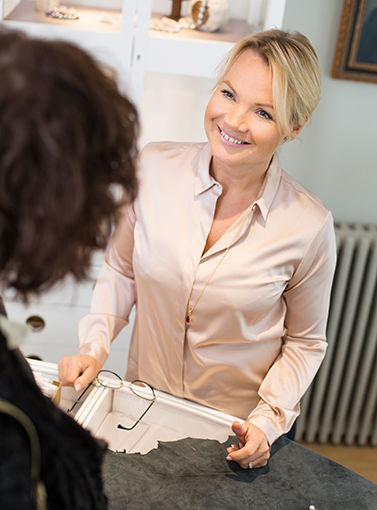 At the shop. It is a normal work day at Atelier Torbjörn Tillander, although Tina has kept her diary free for our photoshoot. As customers come in one after another, there is enough time to offer each one personal, unhurried service. Tina's staff is just as brilliant as their diamonds and seem to know just about everything about the items displayed in the shop.
We are hoping to see one of Atelier Torbjörn Tillander's long-standing regular customers pop in, so we could ask them why they keep coming back.
Bingo!
The door opens and Antti Suontausta steps in, carrying an old jewellery box containing a delicate antique brooch from the 1930s. It was bought at a goldsmiths' in Wien a long time ago and Antti is now bringing it in for modernisation (spoiler alert!) as it is destined for his daughter on her 18th birthday. Antti also wants to find an anniversary present for his wife and starts to plan some other future purchases with Tina, too.
Antti, what makes you come back to Atelier Torbjörn Tillander, time after time?
– I've been coming since the late 1980s, and it is always nice to come here, Antti explains.
– But why do I like giving jewellery as presents to my nearest and dearest? That's an altogether different story... The smile you get after a well-chosen present is priceless; you can never grow tired of it.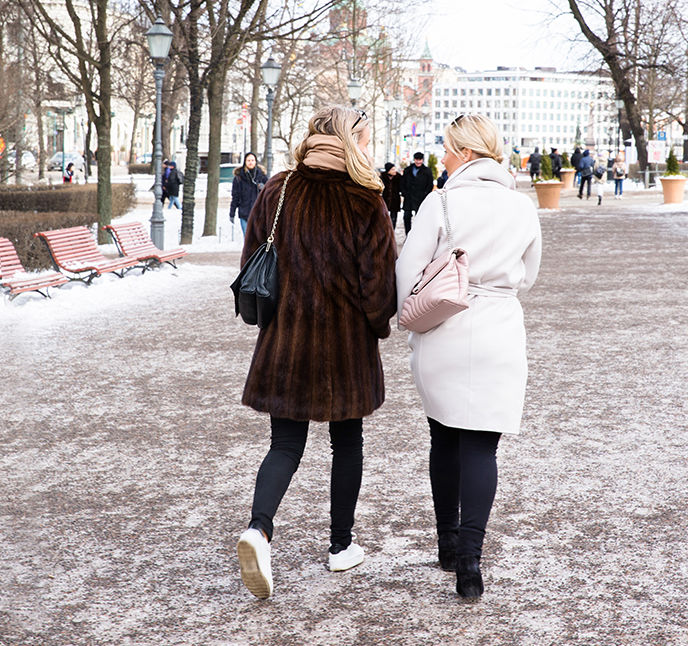 Lunch at Pompier. At the time of our day together, Jenny Tillander is about to start her maternity leave but finds a moment to lunch with her mamma. What is it like to work in a family business with your own mother?
– Actually a difficult question to answer as it's so easy to work with my mother, says Jenny with a laugh.
– We spend so much time together that we talk about everything. I tend to express my thoughts very directly and she wants to hear them, even if they are completely different from her own views.
Jenny describes Tina as a loyal leader who listens to everyone and wants each person to feel they are part of the family business.
– I can picture my future self being very similar in that sense.
At the workshop. In the afternoon we follow Tina to Atelier Torbjörn Tillander's workshop, just behind the corner from the shop, right at the centre of one of the most pricey commercial areas in Helsinki. Hmm... Tina Tillander, why haven't you moved your workshop somewhere cheaper?
– Well, that's because roughly 90% of Atelier Torbjörn Tillander's wares consist of unique pieces that are designed and made on order, Tina explains.
– If you want to guarantee that the precious piece of jewellery your customer orders is exactly what they want, you have to have a solid chain with no breaks, all the way from the order at the shop, to the design and manufacturing stages, and this is only possible when they are made nearby.
In fact, Tina pops in at the workshop nearly every day. Today she has a meeting with Master Goldsmith and Project Director Rauno Tynkkynen, to go through recent customer orders. A significant amount of them are not orders for new jewellery but jewellery repairs, maintenance and valuations because Atelier Torbjörn Tillander is its customers' trusted go-to-place for all things related to jewellery. But Tina and her goldsmiths also have a magical touch when they are asked to make something completely new out of old and outdated pieces of jewellery.
Five goldsmiths work at Atelier Torbjörn Tillander, and in the new workshop they now have premises that are as outstanding as their expertise. The stylish and luminous space also includes a showroom where customers are sometimes invited to watch how the goldsmiths create jewellery by hand.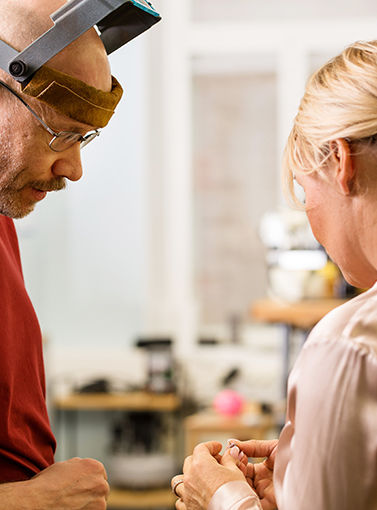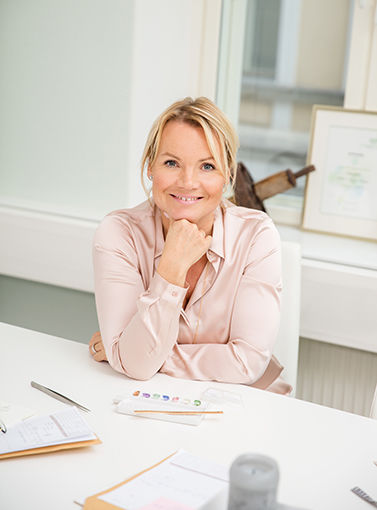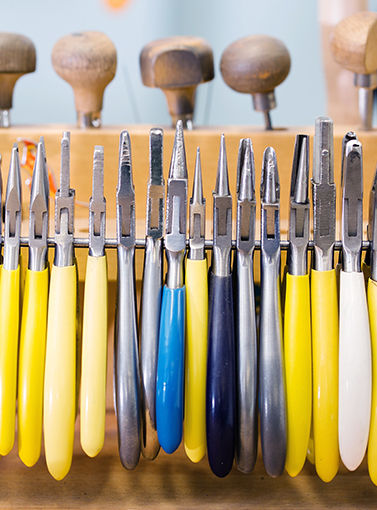 Notes to self. Tina's working day is coming to its end and we leave her busily making a few more customer calls. Before going, I ask Tina what she considers the most important things in life now that she is about to reach the milestone of 50 years.
Here are Tina's Top 3 important things in life:
Joy. Joy is very important for me and also impacts my work. We can't always avoid unpleasant things, but I aim to stay positive; I look after myself, eat, sleep and spend time outdoors. I would rather think about the future than dwell on the past.
Respect. I have a lot of respect for our employees, who, in turn, have my back in everything. It's so great to see employees supporting their boss. I also respect Atelier Torbjörn Tillander's legacy and want to carry it on. I couldn't just discard the culture of quality and service the previous generations of our family have built with their hard work.
Family. Family is obviously extremely important; my children and husband who always support and appreciate me. My family also gives me space to do this work even though it is a demanding one. My own mother, Paula, is still very much involved with the business because it has always been so important for her. My mother will be at work, always and forever – and I consider this a very positive thing about her.
Tina Tillander will be 50 on March 16, 2018. She doesn't plan to celebrate the occasion in any particular way, except maybe something small and intimate with family and friends, and related to work. She will not be holding a reception.