Atelier Torbjörn Tillander is a family business, where values such as family, openness and a commitment to quality are cherished. The company is headed by Tina Tillander, and currently employs three generations of Tillanders – women and gemmologists all of them. In addition to Tina's daughter Jenny, Tina's mother Paula helps out at the office regularly, despite her respectable age of 80.
At the campaign photo shoot this year, we wanted to bring something more to the table, in addition to the usual high fashion photos. We started off with the idea that family is at the core of Atelier Torbjörn Tillander. We wanted to share this story with you and present the stunning women behind the Tillander name.
Three generations of Tillanders took part in this shoot – Tina and her daughters Jenny and Daniela, as well as Jenny's daughter Penny. Jenny Tillander has been modelling for us for years, which made it easy for Tina to shine alongside of her in her familiar role. Penny, the happy little one-year-old was a natural in front of the camera, just like her mom.
For the production of the photoshoot, we turned to the familiar CFA Projects with Catt and Marcus Söder at the lead. The location for the photoshoot was the picturesque Ruin Retreat, just outside Stockholm, Sweden. The photographer was talented Angelina Bergenwall.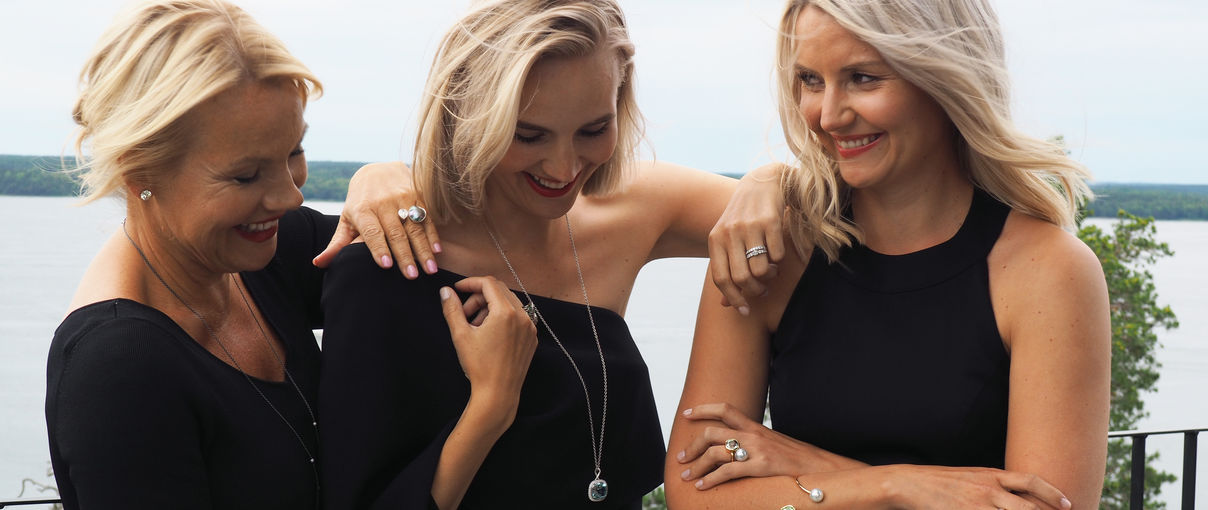 The day in Stockholm was long, but very productive. As a result, we received a bunch of beautiful pictures and videos that highlight the beautiful jewellery alongside the Tillander family. The jewellery selected for the shoot were true to Tina's design style – lustrous pearls, stunning rarities and colourful gemstones. Tina even designed a few special pieces for the occasion, that gave our goldsmiths yet another chance to exceed themselves.
The first ad is already printed – open up the August issue of the Finnish Gloria Magazine and you will see these stunning Tillander ladies smiling on the page. Not models, but role models.
If you want to see more of the results from the shoot, make sure to follow us on Instagram and Facebook, where we will share more of these stunning pictures!
Creative director: Catt Söder / CFA Projects
Visual director: Marcus Söder / CFA Projects
Art Director: Jacob Landahl / CFA Projects
Director of Photography: Emil Klang
Photographer: Angelina Bergenwall
Hair: Amanda Lund / Lundlund
Make-up: Linda Öhrström / Link Details
Location: Ruin Retreat