Atelier Torbjörn Tillander is an exclusive luxury brand from Finland. Our aim is to create advertising that is as discerning as our company's loyal customer base. Once a year we devote our energies to a photo shoot to show off our creations in fashion photographs that catch the eye of those expecting high international standards. Often we find ourselves abroad, looking for that feel and substance just right for our imagery. We are fortunate in not always having to travel far – this spring it was a hop across the bay to Sweden!
Sweden's position as a global trendsetter, both in fashion and advertising, comes down to the unwavering professionalism and ambition of the people working in its creative industries. Our photo shoot in Stockholm was preceded by weeks of careful preparation and close collaboration of a surprisingly large number of professionals. When the moment arrived, all knew their part, and not a minute of the valuable day was wasted. The outcome was an impressive amount of outstanding photography shot in a single day.
Tina Tillander, Jenny Tillander and Hanna Niemenmaa, jointly responsible for the direction and look of our marketing, travelled to Södermalm to join the session at James & Perra Studios.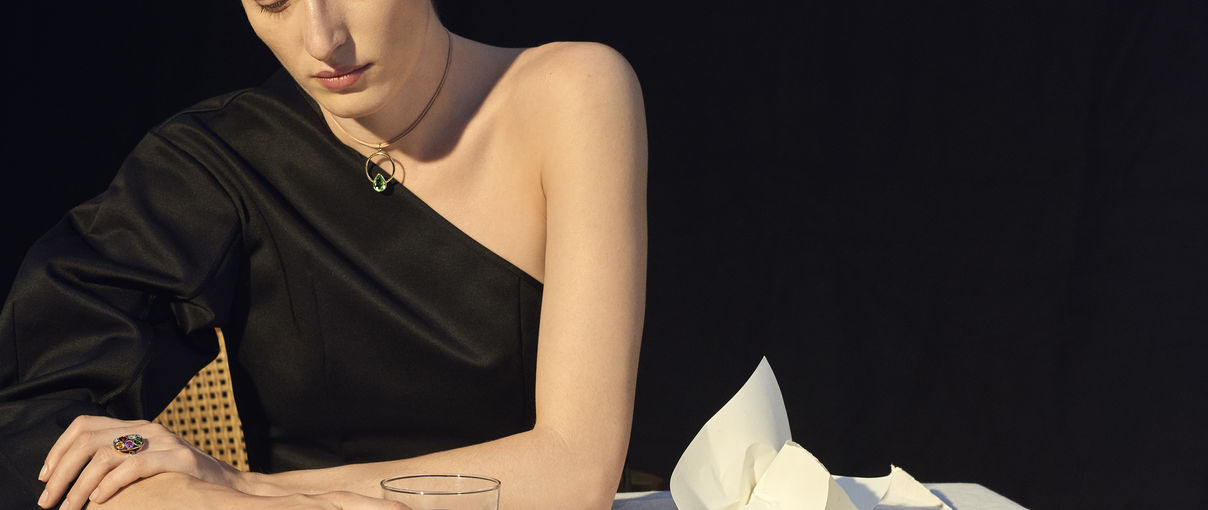 Here we share some of the results of that day, an advertising campaign called 'Sun Shadows'. It is a visual story of light, shadow and their meeting in an old room, somewhere in Italy.
Sun Shadows takes you to a dim space, perhaps in a house by an ancient square, with a shaft of sunlight streaming in through an open window. Inside, it is peaceful, the distant sounds of a small town carrying in. The model is bathed in light against a dramatically dark background. The contrast is reminiscent of old portraits, but with a modern twist.
CFA Projects, our creative agency in Stockholm, came up with the theme of the shoot. When the campaign planning began, they presented Atelier Torbjörn Tillander's team with five ideas, each one distinctive and stunning. In the end, almost unanimously, the team chose 'Sun Shadows'.
The campaign model would have to be a perfect fit for the challenging vision behind 'Sun Shadows'. Happily, we found just the right person in New York.
The mysterious woman in the photographs is Jennae Quisenberry, an American high fashion model – and the lead vocalist for the electro band ERIE. Jennae's striking features and colouring reminded us of the women depicted in medieval paintings. She was simply perfect for the theme and the jewellery we had chosen for this campaign.
This autumn you can spot our new campaign photos in magazines such as Gloria and Forbes. So keep your eyes open – and follow us on Instagram and Facebook!
Design: Catt & Marcus Söder / CFA Projects
Producer: Anna-Sofia Skog
Photographer: Philip Messman
Location: James & Perra Studios