Amethyst is a violet variation of quartz. The ancient Greek believed it protected them from drunkenness, and in fact its Greek root word amethystos means "not drunk". Amethyst is the birthstone of February.
They are typically found in places like Brazil, but there is an amethyst mine even in Finland, in the Luosto area of Lapland. The colour of violet amethysts usually varies from a lighter pinkish hue to deep purple. Recent research shows that these colours are the result of iron impurities in the stone's basic structure, silicon dioxide.
Tina Tillander admits that she used to think amethysts were for old ladies. However, one exceptionally splendid amethyst and the exceptionally splendid ring created from it changed her mind completely. Now Tina uses more and more violet stones in her jewellery designs.
The amethyst ring photographed for this blog is equally exceptional; a stunning statement piece that is anything but conservative. Its story originated in the South America of the 1950s.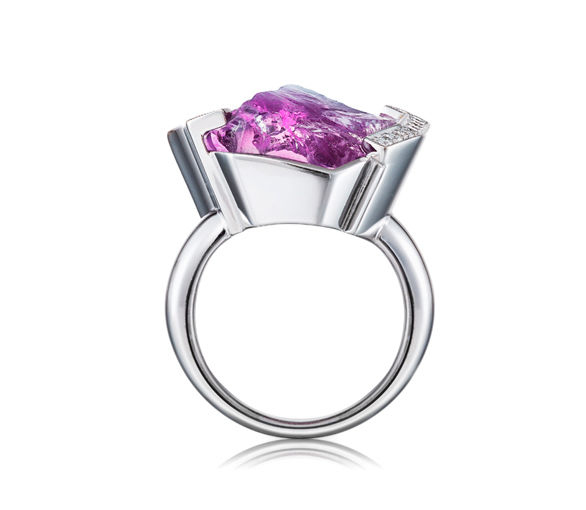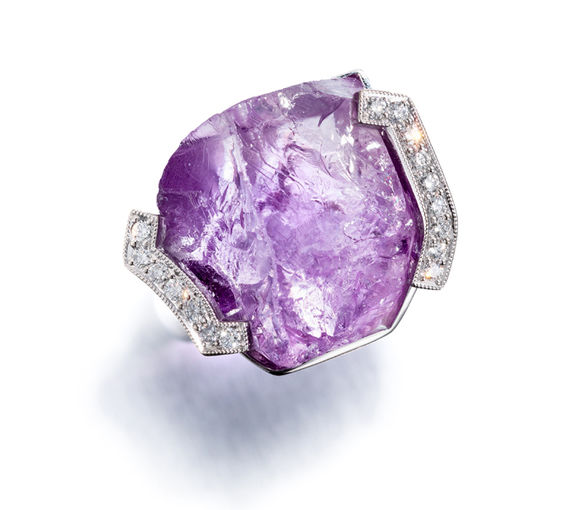 A while ago, a customer visited Atelier Torbjörn Tillander. She had followed our ads and admired Tina Tillander's style, and now she wanted to commission a ring for herself.
At Atelier Torbjörn Tillander, you can spend hours talking about jewellery and gemstones, if you are interested and have the time. This particular customer happened to talk to Tina, and soon one thing led to another.
Our customer's father had travelled in South America in the 1950s, bringing back three stones to make into jewellery for his wife. One of the stones, a raw amethyst, was forgotten in a box for decades. But then, in 2016, the amethyst was found and handed to Atelier Torbjörn Tillander to star in a new creation. This creation became one of the most individual rings we have ever made.
Mia Hillo designed the ring and gave it its sculptural design which supported the customers vision, while our master goldsmith Rauno Tynkkynen made the ring. The grand, raw amethyst framed by small diamonds, is set in a shank in white gold.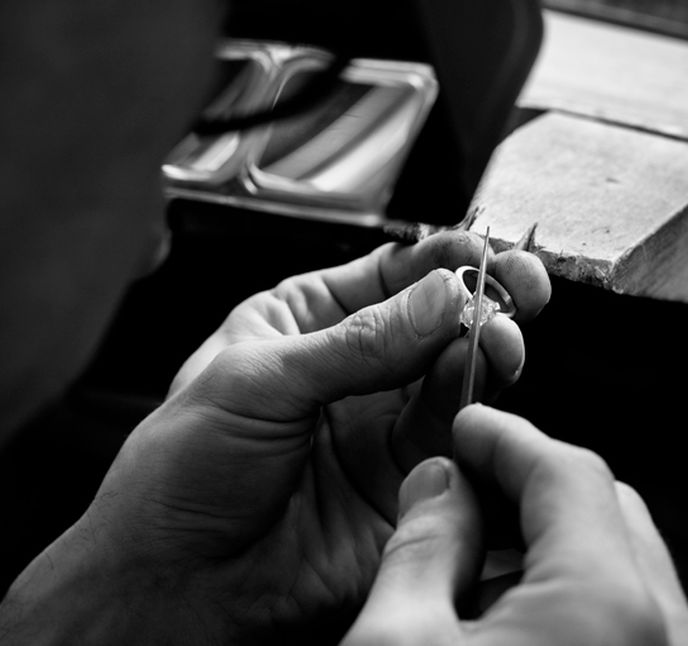 Are you dreaming of an individual, bespoke piece of jewellery? Atelier Torbjörn Tillander designs and creates unique jewellery from customers' own gemstones. We also often renew our customers' old jewellery. You can opt for subtle modernisation of your piece or have the old materials transformed into something completely new.
You are welcome to visit us at our Kluuvikatu Street shop for more information and new ideas!