When Esmeralda met Aarni she wasn't actively looking for someone. Instead, she had just graduated as a silversmith artisan after studying and even working part-time for Atelier Torbjörn Tillander. She was set to move to Cambridge to study and of course conquer the fashion world from the comfort and convenience of London!
On the other hand though… Aarni had such gorgeous blue eyes and freckles, which Esmeralda simply loves. What a perplexing situation indeed.
On their first ever date, Esmeralda got cold feet and never showed up. Instead, she went hacking with a horse. However, afterwards her scruples started bothering her and she decided to pay him a visit after all. Since that day, they met every single day until Esmeralda left Finland for England. And, after the move they began their Skype marathons of calls between the two countries.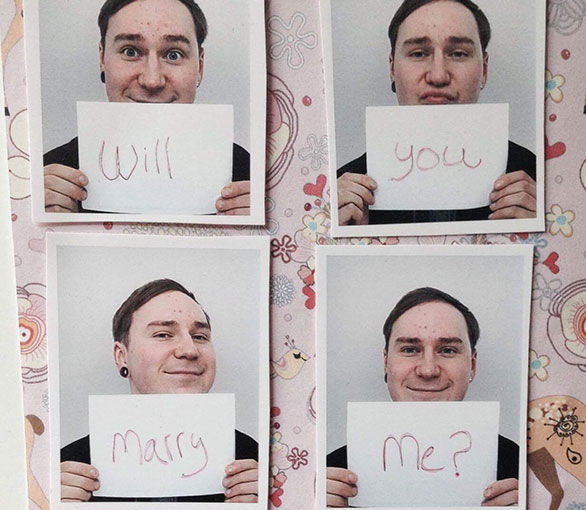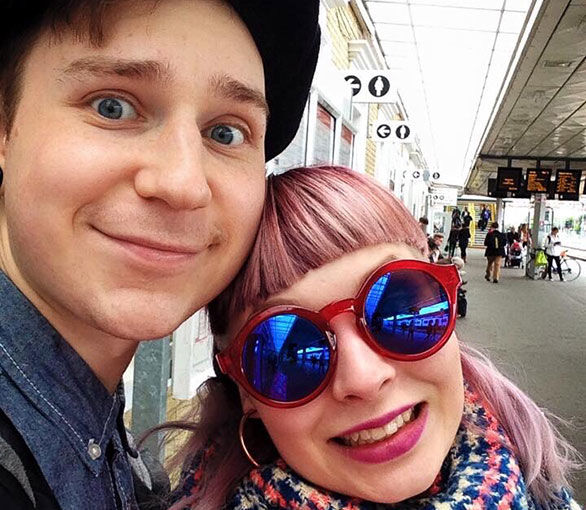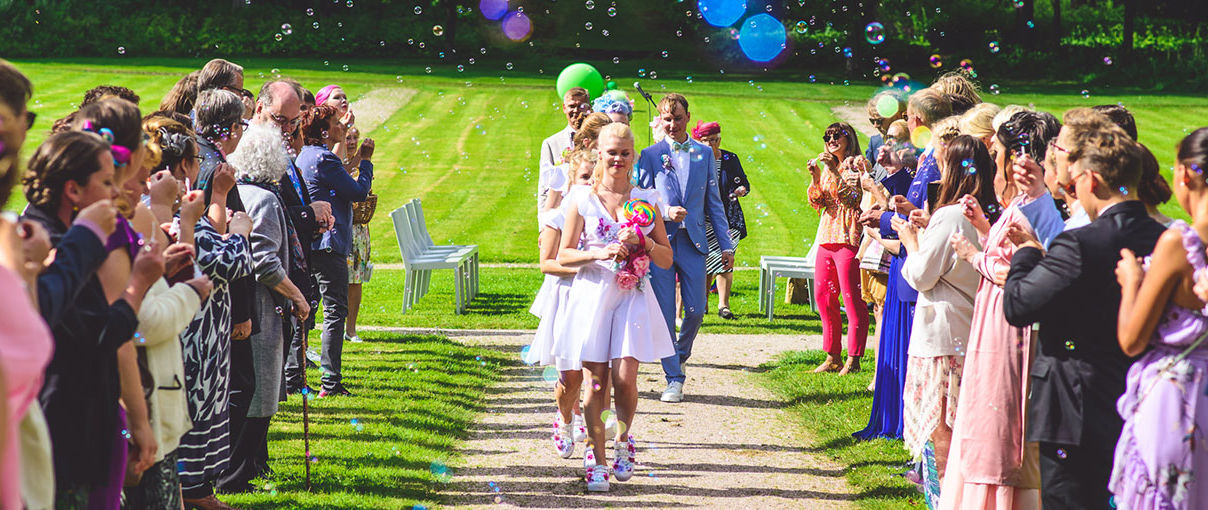 Dreams are made to become true. After a good year the long distance relationship transformed into a home for both of them in England where Esmeralda studies fashion and Aarni the hotel and restaurant business. Then, one day Aarni purposed to Esmeralda with a photo shoot he made in a photo booth at the shopping mall. Will you marry me?
Yes! Of course, I will marry you!
So, the planning of the wedding began. Right from the very start it became clear to both of them that this was not going to be a traditional wedding. Esmeraldas Pinterest account had for years filled up with gorgeous visual wedding ideas – everything from a Marie Antoinette to Alice in Wonderland ideas. Then flowers, flowers, flowers! And pastels!
– I absolutely knew I wanted a crazy carnival of colour, beauty and all things fun, Esmeralda tells us and says:
'In the same time, we started to contemplate what a wedding actually meant for us: two families joining together to give praise to love, and to get to know each other and plan a future together.'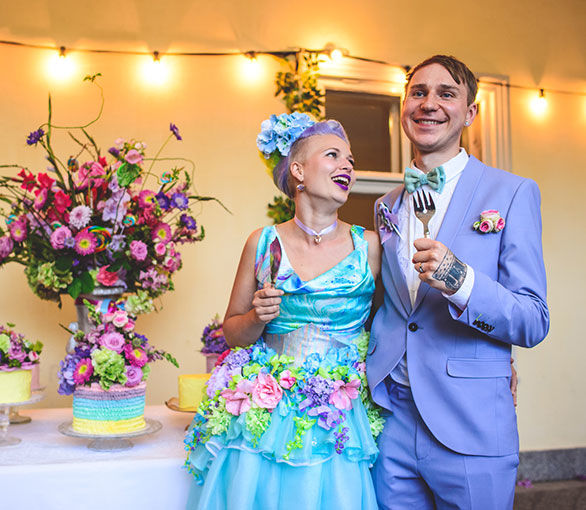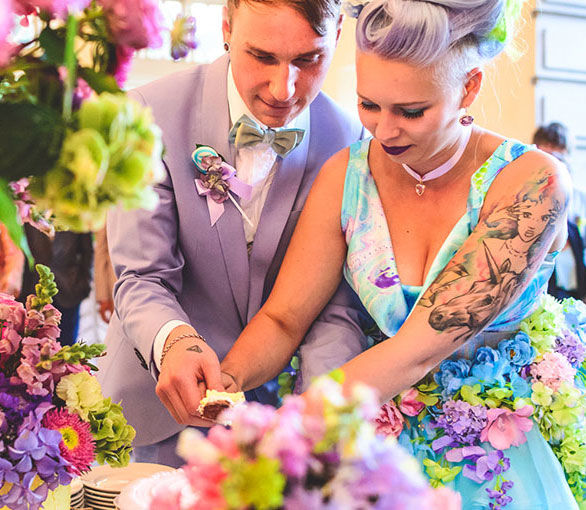 And so, they headed for their greatest adventure ever. Together. Because despite what we are told, love is not blind; at this wedding there were a myriad of things to see. It was a wonderful visual fireworks display of colour.
The bride got married in deliciously lush bridal dress she had designed and made herself in the course of several months. The massive wedding cake was made out of four different wedding cakes accompanied by fresh tastes and local food. The wedding music was performed by bands like the brass band Bolton Avenue, that the bride's father is part of. This wedding was not going to go ahead with a real circus either – Hurjaruuth, another member of the groom's family was perfect for this task, while the dance duo Tanssisirkus (The dance circus) made sure to add entertainment to the day.
The wedding ceremony had actually already taken place in the city administrative court but during the wedding day Esmeralda's uncle Jykä took care of conducting a ceremonial speech instead. When Esmeralda's father arrived with his daughter the Star Wars music theme played in the background, while the Pirates of the Caribbean theme accompanied the couple as they headed off on their first joint journey after the informal but festive ceremony.
What did her uncle say in his speech then?
– Well, he sent us off on a joint adventure with our sails full of wind, as we are quite mobile, Aarni says and continues:
– According to the uncle, we also both really need to do the washing of dishes throughout life. That's what it is all about apparently, Aarni sums up with a glint in his eyes.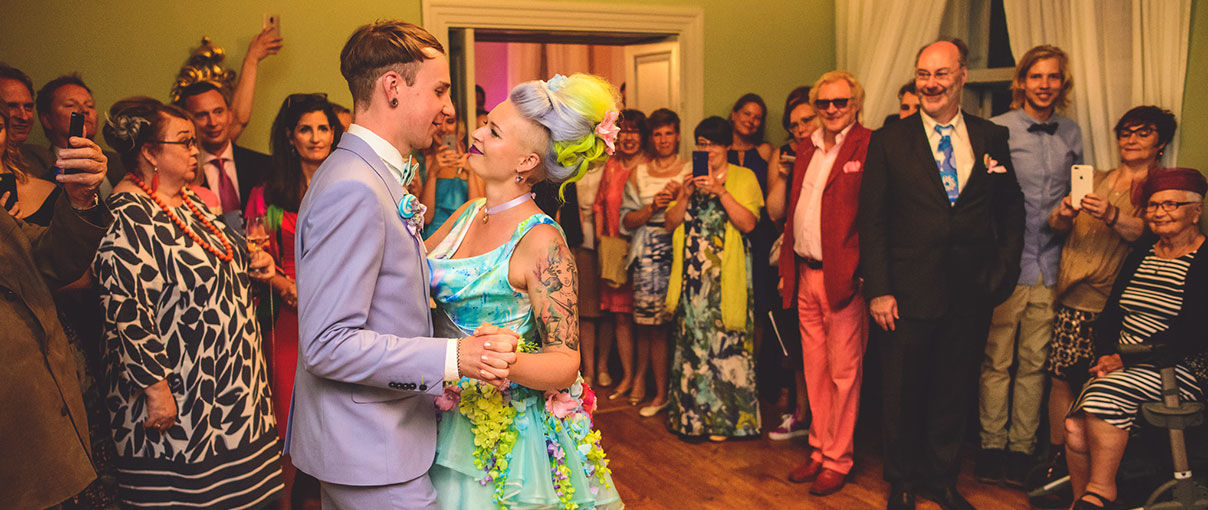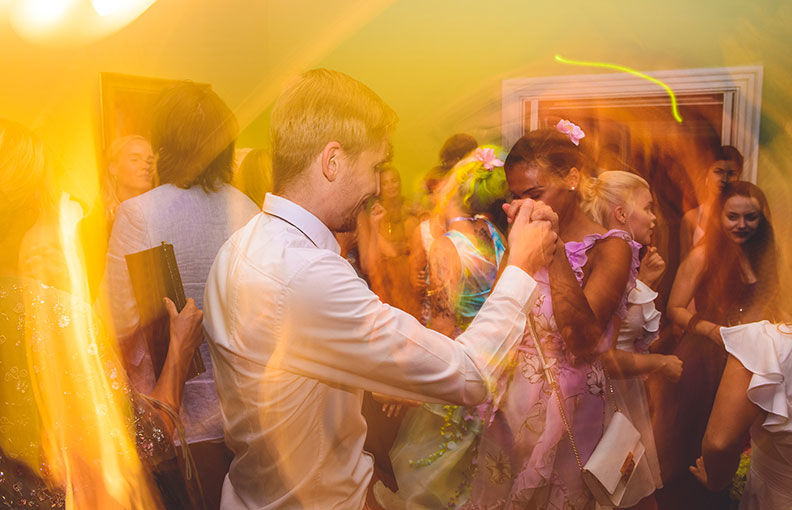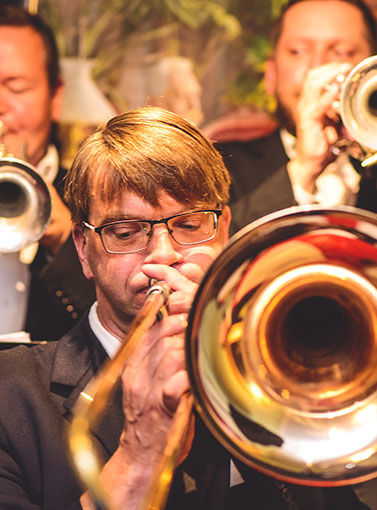 The rings… During the time Esmeralda worked part-time for Atelier Torbjörn Tillander while studying, she fell in love with the totally gorgeous greenish blue Paraiba tourmalines. Hence, that was what she was going to have in her wedding ring. Tina found inspiration from a previously designed ring that combined romance with Indian and Arabic nuances – all with a modern twist, of course.
Aarni got a new ring as well. As the wedding day got closer, he felt his engagement band was a little bit too bling with its black stones and flourish designs – instead he felt a simple platinum band was a ring he wanted to wear for the rest of his life.
Photos by Samuli Salo