"The men's jewellery selection has traditionally been quite conservative and coloured by practicality. Inherently, the traditional male stereotype has a role to play in this: men's jewellery is often void of excessive detail or frills", explains jewellery designer Tina Tillander. "There is a lot of jewellery designed for men, but it's rarely new or innovative. That's why it is important to have a fresh perspective and to dare flip the norms. I love seeing how the younger generations have adopted classical pearls into their wardrobe. Grandma's old jewellery is highly coveted among the youth" Tina explains.
Jewellery is starting to be a quintessential part of the male wardrobe.
Tina Tillander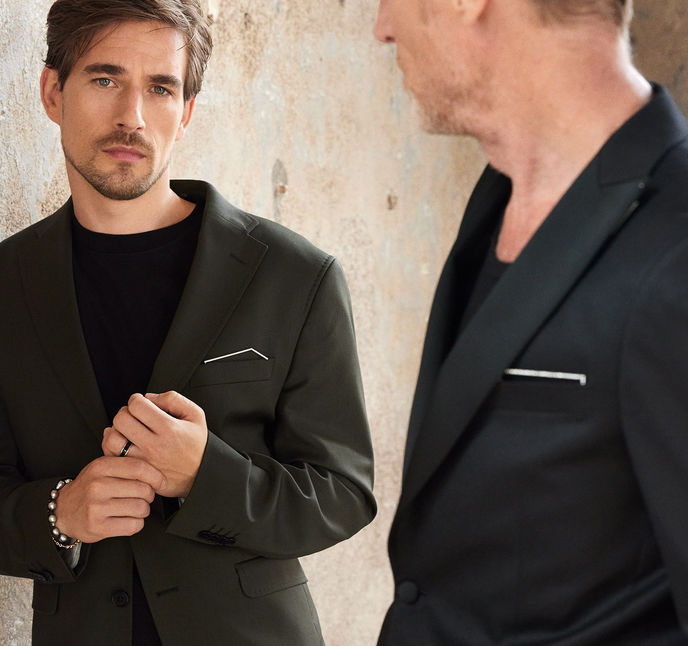 Sparkle on your chest
The pocket jewel is one of the most exciting new additions to menswear this autumn! The pocket jewel, created, designed, and made by master goldsmith Janne Ehrukainen is brilliant in its simplicity: a modern version of a boutonnière or a lapel pin, that replaces the pocket square with diamonds. The pocket jewel is the perfect addition for events where you want to be a bit extra – or why not just to brighten up any old Monday?
The graphic shape of the pocket jewel imitates the traditional folds of a pocket square and currently there are two options available. "The idea for the pocket jewel formed years ago and my subconscious has refined the design to its current shape" explains Janne. "I wanted to create a new kind of piece of jewellery for men, that breaks the norms, is modern and which will stand out. The pocket square is an ancient remnant of formal dressing – why not replace it with diamonds?"
According to sustainable principles, the pocket jewels are made to order. There are two models, that can be tailored to your wishes, for example to match your suit, shirt or tie. The pocket jewel can be made from yellow or white gold and the stones can be either white or black diamonds or colourful sapphires. The pocket jewel can also be black rodinated.
Towards a new era
"It is clear that we are moving toward a new era, where jewellery is an integral part of men's everyday attire. This can clearly be seen among our clients, as a heightened demand for men's jewellery. Our selection of men's jewellery has expanded this autumn, to also include new models of pendants and bracelets. If a man is not accustomed to wearing jewellery, bracelets are often an easy starting point with a wide range of options. If you are struggling with choosing suitable jewellery for a man in your life, I encourage you to come visit our shop on Kluuvikatu, where we can help you find the right piece. Buying a Father's Day gift has never been easier" Tina concludes.
Find our selection of men's jewellery here.
Welcome to Kluuvikatu to discuss different options! If you wish to book an appointment for designing a unique piece, please be in contact with us tillander@tillander.com.