Tina Tillander's Christmas present tips
1. Stylish brilliant-cut studs are a must have for everyone. Easy to combine with any outfit, the discreet ear studs complement any every day event or special occasion. Their simplicity makes them a good choice for all your friends, from those who prefer the minimalist approach to those who favour more romantic or classic styles. You cannot go wrong with this option.
2. My other favourite gift idea is a pearl pendant, simple and effective on its own or combined with other pendants. They are particularly "in" at the moment because long chains are so trendy. And if you like a more sporty look, you can hang the pendant on a leather cord, which definitely makes the combo more casual.
Jenny Tillander's Christmas present tips
These rings are a lovely addition to your jewellery collection – or a great start of a collection for a younger lady! Our stylish and modern sphere-shaped rings are easy to mix and match with each other or with different types of rings. The yellow-gold ring is available with a small or big sphere, or, for a more festive Christmassy feel, what about a diamond sphere ring? These models also come in white gold.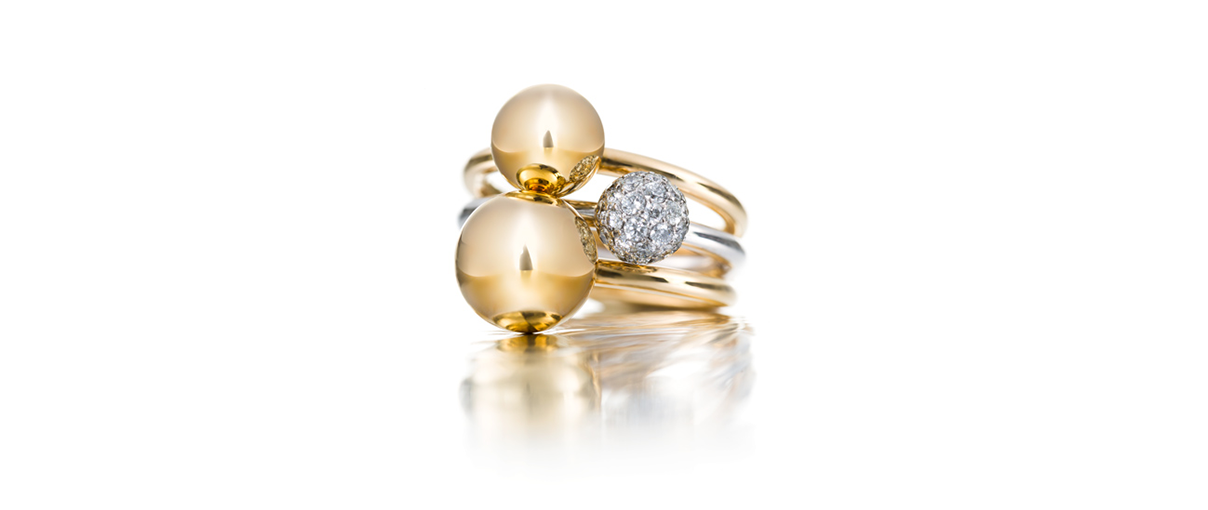 Maria Hovi's Christmas present tips
1. Colourful gemstones are nature's gift to jewellery lovers. Each coloured stone is unique; no two are alike. In this simple pendant you can add a gemstone of your choice. Its clean lines make it suitable for both every-day use and special occasions, and it has become the favourite piece of jewellery for many.
The gemstones in this photo are a pink sapphire, a green tourmaline and an orange spessartine.
2. One of the designs I like the most is still waiting for its forever owner at our Kluuvikatu shop: made of platinum, this beautiful pendant features an aquamarine with engraved snow-flakes. The aquamarine is enhanced by small diamonds that sparkle like pure white snow in a very cold weather. This pendant brings you the beauty of winter and ice.
Hanna Niemenmaa's Christmas present tips
1. A lovely brownish-green tourmaline is framed by brilliant-cut gems and leafs in white gold with dark rhodinated details. This pendant is ready for any occasion: thanks to its muted colours, it can finish off a festive outfit but also adapt to every-day use. In that case, you could swap the chain to a leather cord.
2. I would love to find these sweet morganite earrings prettily wrapped under the Christmas tree with my name on them! The delicate pink of the morganites feels fresh and understated, ensuring they can be combined with virtually any colour you are wearing. The same earring looks splendid with other coloured stones as well, such as a pale blue aquamarine or a brown smoky quartz. The morganites are encircled by brilliant-cut gems in varying sizes, and the body is trendy dark rhodinated white gold.
3. If you are after a Christmas present for a man, my number one tip must be cufflinks with pearls. They are available with different types of pearls, and this particular pair features unique irregularly-shaped Tahitian pearls.
Mia Hillo's Christmas present tips
1. Pearl earrings can make the holiday season feel even more festive! Meticulously cut, sparkly citrines showcase the best skills of our gem cutters. Their beautiful ombré colour effect and refined gold-toned Burmese pearls make them a work of art.
2. This rubellite bracelet is a modern classic. Only the best ruby-red tourmalines are called rubellites. The cutting techniques and colours of our rubellites suit the modern style perfectly; the gems are visually clean, the colours rich, and the workmanship exquisite.
The design of our Rivière bracelet is a one of the great classics, named after the 'river' made up by the long strand of gems. Its more recent American name, "tennis bracelet", stems from an unfortunate incident when Chris Evert lost her diamond bracelet during an US Open match and wanted to interrupt the game until her jewel was found. Fine jewellery is, of course, not meant to be worn when taking part in sports events.