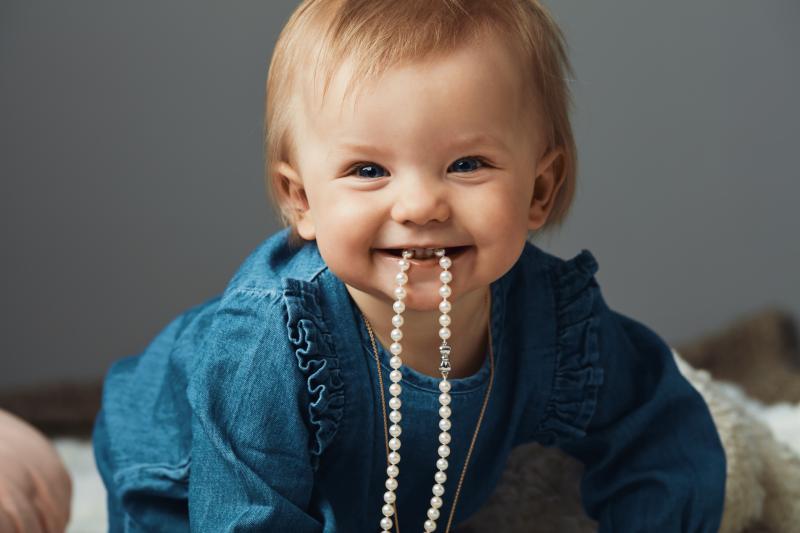 Collectible Pearls
In the 1960's Paula and Torbjörn Tillander came up with the brilliant and lasting idea of collectible pearls for a godchild! Why not give your godchild a pearl each time there is a chance to give the child a gift, and the child will have a valuable piece of jewellery when reaching adulthood?

Atelier Torbjörn Tillander's collectible pearls are Akoya pearls, which means they are cultivated Japanese saltwater pearls. They are round shaped, durable and almost flawless pearls with a beautiful lustre.

Starting your collection is easy, you just need to either visit our shop on Kluuvikatu in Helsinki or order your pearls by mail. Our start-up package contains three pearls in a collection box, all wrapped up as a lovely gift. If you wish, you could alternatively get a jewellery box, and we will place the first pearl into it like a pearl in a shell.

We have a habit of writing a customer card for each child who collects collectible pearls, and we make notes of each pearl that the child receives. If you purchase around 3–4 pearls a year, the child will have a valuable necklace when turning 18 or graduating from college. A pearl necklace requires approximately 60 pearls, a cord to thread the pearls on and a clasp, which you can get in different designs and in various different price classes. When you buy 1–2 pearls each year, the child will have enough pearls for a bracelet when growing up. A bracelet requires approximately 25 pearls.

Prices:
• Pearls (6.5–7 mm in diameter, white in colour) €48
• A jewellery box for collectible pearls €40
• Starter package with three pearls (incl. box) €184 
• Bow clasp € 700

Instructions for collectors:
If you order collectible pearls by mail, please do so by contacting us on our e-mail tillander@tillander.com. Please include the following details in your message:
• Name and surname of the person you are collecting pearls for
• How many pearls you wish to purchase and how you wish to have them wrapped (many people buy pearls in larger quantities for future gifts)
• Which address do you wish the pearls to be sent. Please include the name and phone number of the recipient.
• We will send you the payment details as a reply message.

The delivery fee via Posti is €10 (€16 for the starter package). Please take into account the delivery times (can take up to 7 business days during busier seasons). The parcel will be sent as soon as payment has been confirmed.

The last day for delivery of pearls prior to Christmas is December 12th.

These original collectible pearls are available only at Atelier Torbjörn Tillander, since 1967 (Kluuvikatu 1, Helsinki).
Small things matter.